Activities sponsored by the DC Metro Area OA Intergroup or other Overeater Anonymous service bodies.
Events Are Eastern Standard Time
Special Virtual Event: 12-Step Recovery Panel on 100 Pounders!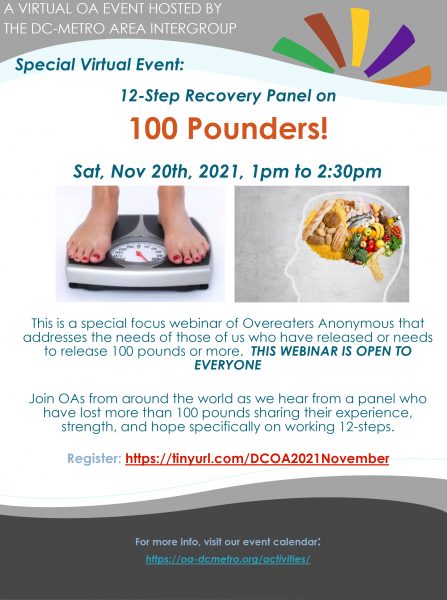 The OA DC-Metro Intergroup presents:
Special Virtual Event: 100 Pounders

When: Sat, November 20th, 2021, 1pm Eastern Time
What: 12-Step Recovery Panel of Fellows Who Have Lost More Than 100 Pounds

Background: This is a special focus webinar of Overeaters Anonymous that addresses the needs of those of us who have released or needs to release 100 pounds or more.  THIS WEBINAR IS OPEN TO EVERYONE
Join OAs from around the world as we hear from a panel who have lost more than 100 pounds sharing their experience, strength, and hope specifically on working 12-steps.
Register: https://tinyurl.com/DCOA2021November